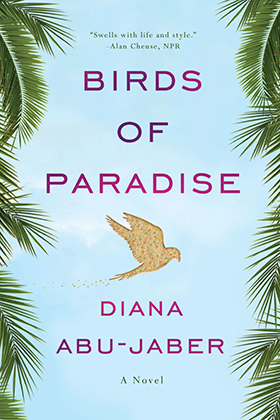 ---
Buy A Copy Online:
---

---

Birds of Paradise
A Novel
Synopsis
Diana Abu-Jaber's lush prose and warm, inviting sensibility have been winning her reading group fans and critical acclaim since the publication of her debut novel, Arabian Jazz, which The New Yorker called "an oracular first novel . . . [that] unfurls like gossamer." Eighteen years and four books later, Abu-Jaber is an accomplished author with many awards to her credit (including the PEN/Hemingway Award and the American Book Award), a reputation as a popular contributor to NPR and a host of magazines like Ms. and Vogue, and a devoted Twitter following.

But if anyone still thinks of her as a niche, multicultural, hyphenated-American author just because she has a hyphen in her name, they are in for a big surprise with BIRDS OF PARADISE [W. W. Norton & Company; September 6, 2011; $25.95 hardcover; 384 pages; ISBN: 978-0-393-06461-2]. Abu-Jaber is poised to win a vastly bigger audience with her new novel, a book both sophisticated and full of raw energy and pure pleasure, smart and emotionally compelling and light on its feet.

At its core, BIRDS OF PARADISE is the story of a runaway daughter, Felice, and the effect of her absence on her mother, father, and brother. It illuminates the silent crosscurrents of guilt, anger, blame, and grief that can plague a family, and it will resonate with all those who have sought adolescent independence and then yearned to reconnect with their families once they are grown up. Abu-Jaber writes with authority on the hot-button subject of teenage runaways and the impact on the people they leave behind, as she herself left home at fifteen—not to spend her time modeling tattoos, clubbing, and scrounging for food on Miami Beach like Felice, but to gain independence from her strict Jordanian father. This personal connection to the novel will make Abu-Jaber a natural choice for off-the-book-page features.

The subject of teen runaways isn't the only social issue explored in authentic and satisfying ways in BIRDS OF PARADISE. Also explored are adolescent cruelty, parental self-absorption, and hidden histories of political violence and tragedy. The food industry spectrum is a major theme: Felice's mother is an elite pastry chef consumed with beauty, her brother is the earnest owner of a trendy food co-op; their separate agendas speak to today's foodie fetishism and the tricky politics of sugar and food production. Felice's father's position as a corporate real estate attorney navigating Miami's boom-and-bust housing market raises questions about financial risk and the effects of gentrification. Finally, the climax of the book during and after Hurricane Katrina reminds us of the potential for generosity and community even among people previously isolated from one another.

The story of a fractured family—and the way in which its members find their way back to one another—has tremendous emotional pull. Featuring Abu-Jaber's signature prose, nuanced characters, startlingly vivid imagery, and all the other elements that fans have loved from her previous work, BIRDS OF PARADISE adds crackling dialogue and a rich, suspenseful plot. This new novel should thrill Abu-Jaber's existing fans and win her many, many more.
Mailing List
Sign up to receive occasional e-mail updates from Diana.
(Your e-mail address will never be shared with anyone else.)
Would you like to be removed from the list? Click here to unsubscribe.